The San Francisco based company Door Dash is similar to UberEats, Skip the Dishes, and other food delivery apps.
But one thing that's not the same is that DoorDash is posting menus from some Halifax restuarants without their permission.
"We were super confused at first cause I wasn't really familiar with DoorDash," says Eric McIntyre, co-owner of Kitsune Food Co., a sushi and Japanese food restaurant on Agricola Street.
According to social media, Black Sheep, Truly Tasty, and Salvatore's Pizza have all found their profiles on the restaurant.
Halifax ReTales@HalifaxReTales
This Door Dash shit is crazy, they have put restaurants like @blacksheephfx and @kitsunehalifax on without there consent, and just use old menus of an item isn't available they say the resto ran out , and take days to refund
Plus all tipping goes to door dash7010:01 PM – Nov 9, 2019Twitter Ads info and privacy47 people are talking about this
Of course, we are also NOT affiliated with DoorDash…but I love that they say they can deliver our pizza in around 45 min!
I say inundate them with calls on Friday night (when del time is around 90 min) and lets see what happens! #troublemaker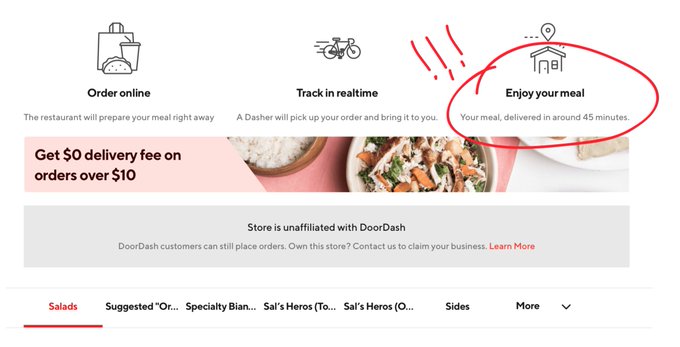 562:36 PM – Nov 13, 2019Twitter Ads info and privacySee Salvatore's's other Tweets

All the restaurants are small, locally owned businesses that typically don't deliver.
"We want to create that experience and have the customers come in and see how things are made and enjoy that experience with us," says McIntyre. "That's why we're not on any of the platforms in the first place."
McIntyre tells NEWS 95.7's The Todd Veinotte Show that he first became aware of the issue on a busy Friday night when he was answering the restaurant phone for take-out orders.
"It just seemed like a regular phone-in for a takeout order and the person on the other line said okay I want to pick up this order at 5:45," he explains. "I said well I'm sorry we're actually already backed up past 5:45 so it's going to have to be later."
McIntyre says the customer was adamant about the time, and also requested to confirm the price a few times.
"They're like 'How much is this? How much is this? What's the total?'" he says.
Later, when the "customer" showed up, McIntyre and his partner, who run Kitsune, realized it wasn't a customer but a delivery driver.
"They're like 'I'm here from DoorDash,' and I said 'Oh, well we're not with DoorDash,'" McIntyre explains. "So he takes his phone out and he shows it, and it says Kitsune Food Co. and it has the list of the order."
McIntyre was shocked when he went online and saw that the same thing had happened to other restaurants.
"We were completely baffled because DoorDash and a lot of the other delivery apps, you sign up, you have a contract," he says. "And then they give you a tablet so when the orders come in it pops up."
The restauranteur says this allows them to confirm whether an item is in stock or how long the wait time will be. But without a legitimate agreement, there's no opportunity for communication with the customer.
"They have no idea what we have and what we don't have in stock that day," he says. "The menus that they have are outdated, so it can create a poor experience for the customer, and they have no idea."
McIntyre is worried that this could cause miscommunications and poorly represent his restaurant.
"If we're dealing with the customer directly, if we're out of something or it's a long wait time, at least we can explain that to them. I have no idea what DoorDash is saying to the customer. So it's not an accurate representation of our business or our brand," he adds.
The day after the initial incident, McIntyre says he tried to get in touch with DoorDash.
"It I called them and it went to a call centre, and the person there had absolutely no idea what I was talking about and what was going on," he says.
The day after that, he finally got in touch with someone who took Kitsune off the app within a few days.
"I was very frustrated but tried to be very understanding that the person at the call centre has no idea what's going on," McIntyre says. "They were actually very helpful and they were able to give us an email confirmation that our information was taken off DoorDash and that we were permanently removed."
A statement on the DoorDash website says, "For those not interested in being on DoorDash for any reason, we immediately remove them from the platform upon their request."
McIntyre agrees that food delivery apps are here to stay, but says they shouldn't be signing up restaurants — and taking a share of their profits — without a contract in place.
"It's just frustrating because we didn't ask to be on their platform, and we have to spend time to be removed from it," he says. "We're busy, we don't have time for this."